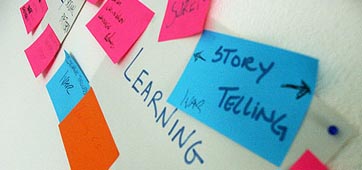 AIMS
What is the aim of the Masters programme?
To allow students to develop new approaches to their work and expand their ability to innovate in this emerging field. Interaction design is a rapidly evolving set of activities at the intersection of design, technology and business. So the programme exposes students to elements of all three, which each synthesizes according to the skills and experience they brought to Interaction-Ivrea, and the disciplines they come into contact there. The programme aims to develop strong professional skills in its graduates to prepare them for leading roles in the world of interaction design.
How does this relate to Interaction-Ivrea's broader mission?
Simply by being in Interaction-Ivrea, students are immersed in its broader mission: to foster a worldwide dialogue about interaction design, create projects pointing to its present and future capabilities, and remain an internationally-recognized centre of excellence contributing energetically to the field, adding vitality to the Piedmont region, and engaging in with Italian as well as international companies, practitioners and scholars.